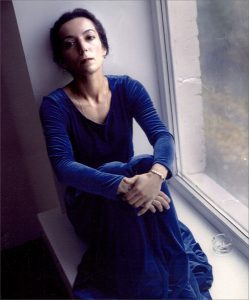 Polina Dashkova's novels are published by
AST, Moscow
Presses de la Cité, Paris
Aufbau Verlag, Berlin
De Bezige Bij, Amsterdam
Styria, Barcelona
Kolibri, Sofia
Videograf II, Poland
NSM Media, Sofia
ART Editorial Group, Bucharest
Eurasian Press, Taiwan
Olion, Estonia
Athenaeum, Budapest
Amazon Crossing, USA
Nordbooks, Finland
Film rights in her Lena novels have been optioned.
"Russia's star-author Polina Dashkova shines with a political thriller." (Vogue)
"Psychological nuances …, descriptions of the backdrop against which the novel takes place that you can empathize with, and a satirical power." (FAZ)
"A book that leaves echoes in your mind: for a disturbingly long time one imagines hearing the light tread of madness approaching from behind." (Financial Times Deutschland)
"If one wanted to place this Queen of the Thrillers, she would come somewhere between Mary Higgins Clark and P.D. James." (Gala)
"… should not be afraid of being compared to Patricia Cornwall, Sara Paretzky or Ingrid Noll." (FAZ)
"The drama surrounding love, money and madness are especially captivating because of the enigmatic characters." (Marie Claire)
"Dashkova has a cult following at home. She fascinates the reader with not only vividly painted characters and gripping action, but also with very interesting insights into modern Russia." (Madame)
Polina Dashkova is Russia's most successful crime author, with a total of 50 million copies of her books sold so far; in Germany she has sold more than 300.000 copies. She is a graduate of Moscow's Gorki Literary Institute. She has been an active radio and print journalist, and has worked as an interpreter and as a literary translator from English.
The German press calls Polina Dashkova the "Russian crime queen." All her novels are real page turners, made convincing by her use of concrete numbers and lent credibility by their psychological depth. All of Dashkova's main characters are heroines, who are neither police inspectors, nor detectives; who have no knowledge of weapons or unarmed combat. They must become involved in the solution of the crime, because neither the police nor the authorities can be counted on to do their job. Her heroines are out for a moral victory, and often they find themselves alone in a society overflowing with criminality. Dashkova does not write "feminist" thrillers. Her heroines are real women, faced with the same problems as any woman finds in a male-dominated society. A typical example is Lena in "Madness Treads Lightly." She is a frail journalist in her thirties, which makes her somewhat the author's alter ego. She is always overworked, every minute of her life is booked. She has a two-year-old daughter, and has to take work home, often working late into the night to keep from losing her job.
Dashkova's crime novels could well be called sociological novels, because they depict the splendor and misery that is contemporary Russia. The author takes us to a casino where incredible sums of money are gambled away, into a basement where a bum has chosen to pitch camp for the night, to the editorial offices of a culture magazine that has been forced to include articles on serial murderers just to keep its readers interested, to a theater that is only surviving thanks to mafia money. Her characters are gangsters and authors, models and poor mothers, ballerinas and politicians. Dashkova does not just churn out the same thing again and again, she switches between the different types of crime novels in her very own, unique way. One will be a classical "whodunnit," where the culprit remains unknown right up to the end. Another will be a detective story that does not so much center around the search for the perpetrator, as around the social environment and interrelationships between characters.
Polina Dashkova has added new territory to the map of crime fiction: exotic, chaotic new Russia. Dashkova succeeds in presenting thrilling scenes of life in contemporary Russia that makes the reader feel like both laughing and crying at the same time. Her prose is subtle. Her dialogue is excellent. Her novels are far from being mass-market pulps.